According to the Environmental Protection Agency, the U.S. discards 31 million tons of plastic in landfills alone every year. Clearly, we can't recycle our way out of the problem of our increasing use of plastic.
The food service industry has been responsible for much of this plastic because of its reliance on single-use containers. Fortunately, the industry has improving its products to cut much of this plastic. The bad news is that there are companies that are desperate to hold on to the status quo rather than innovating. They'll stop at nothing to mislead consumers into thinking they're buying green products.
An example is plastic takeout containers that are simply infused with some unknown percentage of a renewable material like cornstarch. Because these products contain both compostable and non-compostable material, they're neither compostable nor recyclable in the vast majority of cities in the country.
They're guaranteed to end up in a landfill in a best-case scenario. Many times, they also end up in commercial compost or recycling centers where they contaminate those operations.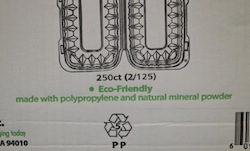 Recent labeling laws in states like California have made it more difficult to mislead consumers into buying products based on claims of being "better for the environment". It is now against the law in that state, to label something as "biodegradable" unless it's also "compostable". To be compostable, it must prove that it meets strict scientific standards for decomposition.
That hasn't stopped these companies, of course. Some have replaced their offensive labeling words like "biological," "bio-based," or "nature-friendly,". Whatever that means.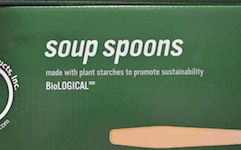 These manufacturers know that while consumers care about the environment, they don't have time to research every claim. To make things easy, we've put together our top 5 things to look for when buying green food packaging.
Look for Certified Compostable Products
Two third-party organizations offer compostability certifications - BPI and ASTM. To find certified products, look for the following terms:
"Biodegradable"
"BPI certified"
"meets ASTM D6400/D6868/D6866 standards for compostability."
Avoid products that use unproven terms like "Oxo-degradable," a highly controversial process in which a chemical is added to plastic to make it "break down faster" in a landfill. That could mean 100 years instead of 150 years!
Avoid "landfill" claims
If a landfill is managed properly, nothing in it will decompose within our lifetime. This includes biodegradable items such as food. Any product that says it "breaks down in a landfill" should be considered "garbage" before you even buy it.
Consider manufacturer reputation
One has to wonder about the true intentions of a traditional plastic packaging manufacturer that develops a so-called green product while they still sell the same old toxic plastic stuff.
Buy from companies who started their business and has a mission oriented in sustainable packaging. World Centric, based in Palo Alto, CA is a great example of this. They've never made plastic products, are a certified B Company, and do a lot of outreach to educate consumers about the importance of sustainable packaging.
Local and plant-based materials
Look for products made from locally-sourced materials like recycled paper or U.S. grown plants like corn. Different bio-based materials are best for different uses. For example, sugarcane (bagasse), wheat straw, bamboo, and bulrush are best for warm foods. Clear products like PLA (cornstarch based plastic) are best for cold foods. There are some exceptions to this. A newer version of PLA called TPLA or CPLA, used in utensils and coffee cups, handles hot foods as well as plastic.
Prices that are the same or lower than traditional plastic
Prices for compostable food containers made from things like sugarcane and plant starch have come down in recent years. Often approaching that of some traditional plastic. But, the scale of the plastic industry, combined with the fact that they don't have to embed the true environmental costs of their products into the price you pay still gives them a slight price advantage. As my dad used to say "if it sounds too good to be true, it probably is."
Images taken by Ken Jacobus.