The Balanced Bee is the first, uniquely blended Juice and Broth Restorative. They offer two main products: juice and broth. They believe in balance, quality and integrity in product and design. Think better, feel better and look better without compromising your health or the Earth.
We spoke with Annie Parks, founder of The Balanced Bee. A University of New Hampshire Alum, Annie was drawn to Good Start Packaging because of our mission and values, and it has been an absolute pleasure forming a like-minded successful partnership with her. We've worked together extensively and this woman has given her all to grow The Balanced Bee since their opening in summer 2016.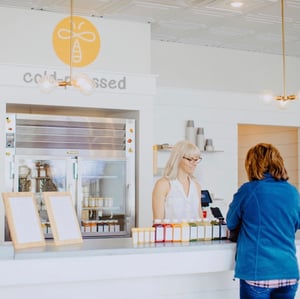 We had a strong belief that she would be big, and sure enough Annie will be expanding The Balanced Bee brand to a 2nd location in Bloomington, IL. Meticulous with every last detail, she has built a strong brand name with a well designed logo, custom cups, beautifully labeled juice bottles, and impeccable shop design. Passionate, driven, and focused are just a few adjectives that immediately come to mind when we think of Annie.
Read more to learn about her experience opening a juice and broth bar....
What gets you up in the morning?
Besides my sweet 6 yr old daughter, Whitney Rye…my customers and people whom I haven't even met yet. There is a lot of negativity in this world, waking up each morning with the goal of spreading a positive force drives me day in and day out.
What were some of the driving reasons behind you starting Sport Forward & The Balanced Bee?
I did the corporate thing for about 11 years prior to starting my own brands, and am very grateful for that professional experience. However, I missed the inspiration I so frequently felt as a dedicated athlete. I enjoy creating something from nothing and bringing out the best in others. Life was showing me those signs, and I am fortunate enough to have trusted my gut; creating Sport Forward and The Balanced Bee.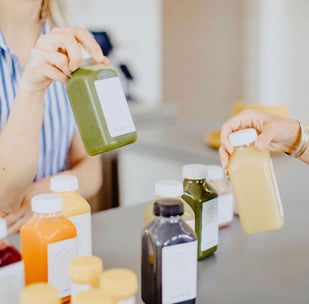 Why a juice bar?
I love liquid nutrition….and because my community needed this. Not just a juice bar, but positive and vibrant energy. There isn't anything more vibrant than the gifts from mother nature herself.
What do you think it takes, not just to run a business, but to run it well?
Preparation + Hard work + Rest. Then hit REPEAT.
From the beautiful sign you have hanging atop your shop to your visually pleasing Instagram page and the Worker Bee shirts you have your employees wear, it's fair to say you invest a lot of time and thought into your brand. How valuable do you believe branding is for your business?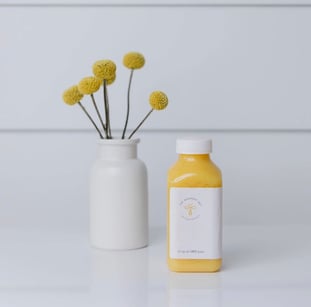 For me, developing a brand is a personal thing. It was pretty scary to navigate through that entire process; which is why I have the best brand-mates alive. Sara + Bradly Greene of The Purple Turtle (and their team) are just the right fit for my style. I'm all about the right team members, and they just get me.
You were months from opening the Balanced Bee when you made the investment to have custom cups made. What made you decide you had to have a custom branded option?
I envisioned having custom cups as part of the shop design, I really wanted them to be minimal.
Were the factory minimum order quantities intimidating for you?
Factory minimum orders were sort of irrelevant to me at that time, I wanted customized cups. I am a girl.
How did you find Good Start Packaging and what made you choose to do business with us?
I went to the University of New Hampshire, played volleyball there. I had looked for months for a "GOOD" partner…(no pun intended). One day, I think Good Start Packaging literally fell into my lap after having done about 100 google searches for "the best environmentally friendly cup company…" NEW HAMPSHIRE is a solid place, Kim picked my phone call right up and the rest is history...
How would you describe your partnership/relationship experience with Good Start Packaging?
Comforting. I have a lot of risk on my plate every day. My relationship with Good Start Packaging is very important to me. I think both sides have respect for one another's businesses.
How long do you intend to stay in business?
I of course have big goals and plans. For now, I take it one day at a time and follow through what is in front of me and so does my team. I surround myself with "GOOD" people to begin….