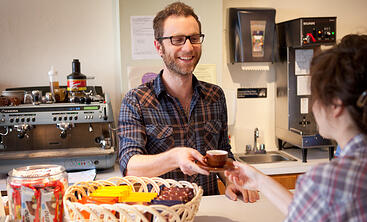 Last year I attended the Specialty Coffee Association Conference in Boston. One of the most memorable presenters was Nathanael May from Portland Coffee Roasters, who are known for striving for environmental sustainability.
His presentation was titled "Customer Service from the Barista" and was geared for the coffee shop owner audience. But its insight is relevant throughout the entire food service industry.
Here are a couple notable quotes from Nathanael that really spoke to me:
"Met expectations don't bring people back. EXCEEDING expectations brings repeat business AND great reviews that bring new customers."
"People will keep coming back for awhile for a bad product with great customer service while you get the product right. But they won't come back for good product with bad customer service."
"During staff training sessions, tell them it should be an honor to see a customer enjoy a great cup of coffee. They should feel a huge responsibility to make that cup of coffee great."
"Employees should see themselves as ambassadors or friends of their customers. In fact, it's important to tell employees that the people they're serving are their customers too. The number one quality to look for when hiring a barista is a warm, good person. Almost anyone can be trained to make a latte but instilling a love for people is harder to teach."
Barista Must-Haves:
Detailed knowledge of the coffee and the menu
A whole line that is set up for success, that means train everyone, even cashiers
Customer knowledge

Name of your customer
Favorite drinks
Knowledge about customer's lives - make it more than a transactional relationship. People want to be a regular at your place. But you also need to know when a customer does not want you to know their name. Nathanael gave the example of a regular customer who came in each day wearing a prison guard uniform. That customer seemed wary of getting too personal, perhaps for security reasons. So make sure you can read their body language and cues. Also, remember that every moment is not necessarily a teaching moment. If someone likes their coffee with cream and sugar and you don't think that's the right way to drink it, let it go.
The Service Acronym:
Smile - It disarms people and is universal in its appeal
Eye contact - Make it! This seems like a no-brainer but so many customer service people don't make it
Respectful welcome - Know what the customer likes
Value the customer - They need to know you care about what they're doing there
Initiate contact when they enter the store
Create Solutions - If they're not happy with the offering; be creative with an alternate to show them you care
End with a "thank you"
If Something Goes Wrong With a Customer Service Interaction:
Don't take it personally even if it's the customer's fault, just be the shop that fixes it
Start with what you can do, not with what you can't do. The act of proposing a solution shows you care
Empower your staff to say yes. "You didn't like the coffee? Here's a new one on us"
How to Recover From a Bad Customer Experience:
Listen to what the customer wants and respond to THAT
Acknowledge their concern before suggesting something
Take action before a complaint escalates
Thank them for bringing the issue to your attention
Encourage them to return - send a card with a free product encouraging them to return
Finally, Nathanael offered some practical advice for what a coffee shop owner can do now to start dramatically improving customer service and driving more revenue.
Be encouraging to staff/coworkers
Lead by example!
When a customer gets under your skin, get back on your horse and do better with the next customer.

All of us will have people we can't connect with in a positive way, that's okay.
Try to win the business of every customer!

You have to know your menu, and your coffee, so you can always give as much information as every customer needs so they have complete satisfaction with every single experience they have
Make it a place in which you can't wait to see the people each day
Image courtesy of: i
narkansas.com