We're in the midst of a worldwide pandemic. It's a scary, uncertain and troubling time and one that no foodservice operator could have predicted.
Sure, we all try to maintain emergency funds. Typical cash-flow management advice is to maintain cash equal to 3-6 months of operating expenses. But restaurants operate on slim margins and maintaining that much liquidity can be incredibly challenging. On top of this, business regulations are changing daily in response to the COVID-19 crisis and many foodservice operators are having to reinvent their service models to stay open.
So, how are business owners adapting? What strategies and tactics are foodservice operators employing to stay operational and what is or isn't working? We set out to answer these questions in a recent survey. Over 100 foodservice operators across the United States, from restaurants and juice bars to farmer's markets and bakeries weighed in. Here are the results.
Which strategies, if any, has your business(es) utilized to adapt to this unprecedented public health shutdown due to coronavirus?
Most foodservice operators we surveyed have started offering take-out and delivery or expanded their current operation. But, only 11% said that they're relying on the big four online food ordering and delivery platforms, Grubhub, Postmates, Uber Eats and DoorDash, a few of whom have waived commission fees during the initial months of the pandemic.
Instead, many operators are rallying together with other local businesses, turning to resource networks like SCORE, or concentrating on their budgets (e.g., with a focus on breaking even and cash flow). Also, we heard from a handful of respondents that they've decided to suspend operations entirely during this time.
Based on your previous answer, which strategies do you feel have had a positive impact on your business(es)?
We then asked respondents which strategies were actually working. Take out and delivery took the lead as the biggest economic drivers for the foodservice operators we surveyed many of whom are getting very creative with their menu offerings. But, gift card sales were a disappointment for most. 18% said that they've been encouraging sales among patrons and only 6% responded that doing so has had a positive impact on their business. Establishing a new budget and changing or reducing menu items were also disappointments for many. A farm owner we surveyed in Easton, Pennsylvania noted that simply letting customers know that they were operational and still growing vegetables has been helpful.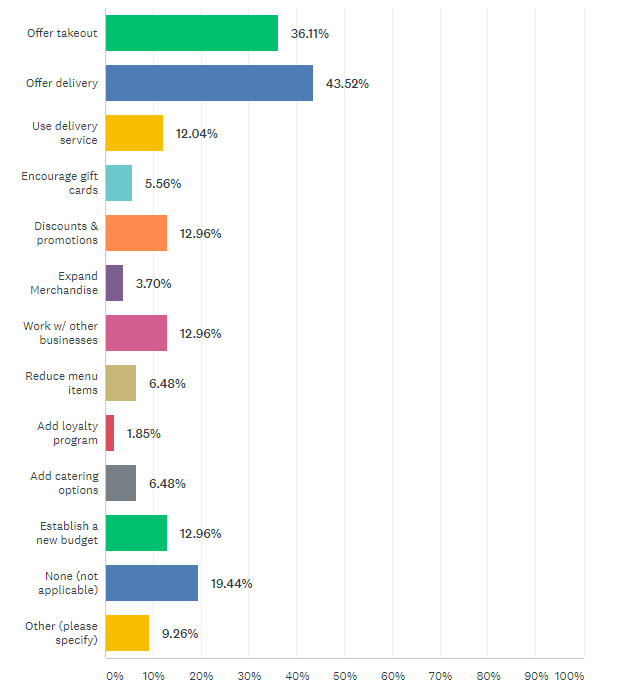 How are you getting the word out to customers?
Communicating with customers is essential, especially during times of crisis, and the foodservice operators we spoke to agreed. Most are taking to social media to stay in touch, as well as, emailing their customers regularly. Using on-site signage like an a-frame outside of your business and social media ads were also popular. Additionally, many foodservice operators are working with partners to get the word out. For example, they may be asking their customers, fellow businesses and community to share about the importance of supporting local businesses, as well as, engaging local news media and radio. Most foodservice operators we surveyed are not paying for promotion on take out and delivery services.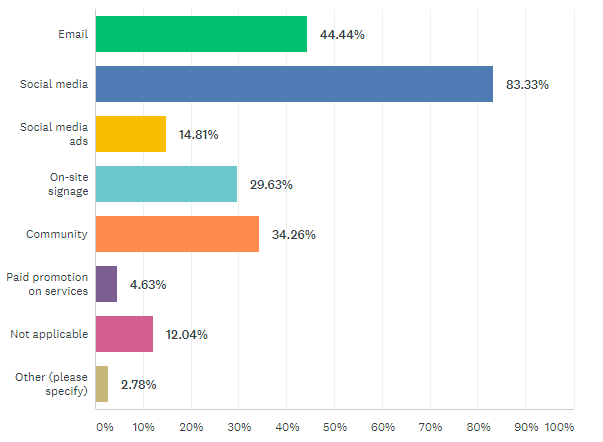 Which steps, if any, have you had to take or do you plan to take to protect your business?
Tough times can make for tough decisions and many of the foodservice operators we surveyed have had to reduce employee and business hours or lay off staff. Also, many have looked for government assistance and loan options through the U.S. Small Business Administration. On a positive note, 28% percent haven't had to make adjustments yet.
Other foodservice operators like houses of worship and non-profits said they are soliciting donations and grants or switching operations entirely. For example, a juice bar owner in Belfast, Maine said, "We closed our cafe, and switched over to firing up our greenhouses to grow more microgreens and wheatgrass for our community. We are using the cafe to produce juice for 2 day a week delivery. Everything counts for something these day, and its working. The support we are all sharing is just beyond amazing."
Which Good Start Packaging products do you find your business(es) using more of as of late?
We also asked foodservice operators about which packaging products they're using more of lately in order to help us forecast inventory needs. We've been able to maintain our 95% fulfillment rate and are shipping most orders within 1-2 business days but understanding which products our clients depend on is essential. Most foodservice operators we asked are using more takeout containers, bottles, cups, and bags during this time.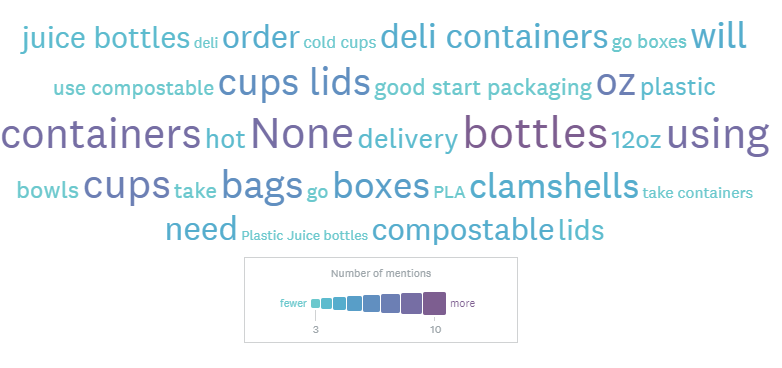 Which Good Start Packaging products would you like us to carry in the future to help support your business?
We also asked foodservice operators about which packaging products they'd like to see us carry in the future. We're constantly researching for the most environmentally-responsible packaging available and working directly with manufacturers. So understanding our clients' future needs is helpful in determining where to focus our energy. Many foodservice operators we surveyed would like to see more boxes and bags, including insulated options and larger, compostable boxes for carry out items. If you have suggestions for other products, we're all ears.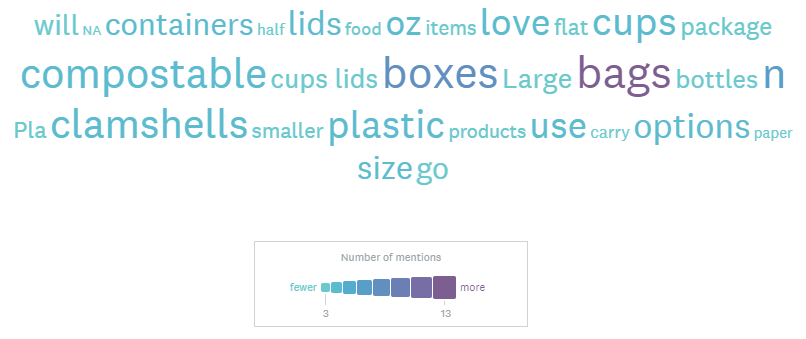 Do you have any other feedback/insights to share that could potentially help other foodservice operators?
Lastly, we asked foodservice operators if they had any suggestions for their peers during this time of crisis. Below is a sampling of the feedback we received. The bottom line: support your community, be transparent with what you're going through and stay safe. We'll get through this together.
From our side, we will continue to get you your packaging products when you need them. Our warehouses and delivery providers are operating normally and continuing to help us maintain our 95% fulfillment rate and 1-2 business day shipping speed for most orders. Please reach out if we can be of any assistance. We're here for you.
For more resources, check out COVID-19 Business Continuity Planning Basics and COVID-19 Resources and Information By State as published and updated by the National Restaurant Association.
Partnering with local distributors and local food hubs that are non-grocery store types (such as local farm stores) will strengthen the community, increase outreach, and hopefully help to keep you afloat! —Alyssa P., Beverage Producer
Trying to keep things as clean and sanitized as possible often leads to a lot of single-use item waste. We don't want to be generating lots of garbage because of this virus, but we want to maintain a safe and healthy environment for ourselves and employees--and we need our produce to be totally safe for people to eat. Pre-packing compostable share bags seems like it's going to be the way to do this. We'll ask our CSA members to save their bags for composting at our farm. —Katy P., CSA Operator/Farmer
We are keeping our business local, supporting the local community and in turn they are supporting us. We are doing all we can to stay safe and healthy so we may continue serving our community. —Charlene S., Specialty Food Provider
We're all in this together!! And I hope that there will be more incentive for local businesses to band together; one example: restaurants prioritizing supporting local farms by buying their veg and local farms doing more advertising for local restaurants. —Carly W., Farmer
Tell your customers you need help, don't be too proud and.go out of business. If people like you they will answer the call. There just has to be a call to answer. —Derek F., Juice Bar Owner
Continue to make it known that you are open and reasons as to why people should support your business. —Jenna N., Juice Bar Owner
Just don't run out of to-go boxes. —Douglas S., Restaurant Owner
Pull together with your community. Everyone is willing to help, you just need to ask! Follow in the footsteps of your inspirations and cater their ideas to fit your business model. Winging it now shows that you are in this for the long run, so show your customers you are their for them, and that will double back around in the long run. Best to everyone and be well! —Kate H., Juice Bar Owner
Maintaining calm amid the storm for staff and customers is key. Giving customers a sense of normalcy is helpful. —Robert M., Restaurant Owner
Stay strong and remember you didn't do anything wrong. Have the conversations with your lenders/vendors and such. You will find a lot of understanding. —Debra W., Restaurant Owner