On December 14, 2018, a plastic bag ban will go into effect for the City of Boston. The ban was unanimously approved by the city council and Mayor Marty Walsh. Boston joins other nearby communities such as Cambridge and Brookline who already have bag bans in place.
The goal is to reduce the number of single-use plastics released into landfills. Plastic does not biodegrade. Nearly all plastics produced since the 1950s still exist and less than 30% of plastics are recycled annually.
The Basics
The bag ban covers any type of "checkout bag" which is used to carry out items provided by a retail establishment at the point of sale. This includes vendors who sell any type of merchandise, jewelers, restaurants, pharmacies, grocery stores and other vendors.
Businesses should encourage customers to use their own reusable shopping bags. Retail stores can provide a bag to customers at a cost of at least 5 cents per bag and must be one of the following:
A reusable bag
A recyclable paper bag
A compostable plastic bag
Retail stores can keep the 5 cents per bag fee and must also separate out the bags on the receipt. Customers can avoid the charge when they bring their own bags.
There are a few bags exempt from the ordinance including produce bags, laundry/dry-cleaning bags, newspaper bags and bags used to wrap meat or frozen foods.
The full ordinance can be read online.
How to comply
Compostable Plastic
What does a "compostable" plastic bag mean? Items are compostable when they are proven to biodegrade in controlled conditions within a commercial compost facility. To be considered compostable, an item needs to be certified by an independent testing agency such as the Biodegradable Products Institute (BPI).
Our BioBag shopping bags are BPI Certified Compostable as well as FDA Approved and Non-GMO Verified.
Our compostable plastic bags are:
Made with plant-based, renewable materials
Able to hold up to 12-20 pounds depending upon the size
Are marked as "certified compostable" to educate consumers
View our Compostable Plastic Bags
We also carry compostable produce bags and trash bags. While they aren't required by the ban, you can extend your efforts and show your customers you care about reducing waste.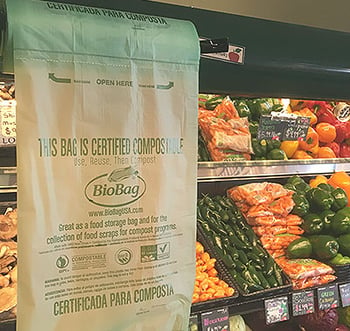 Recyclable Paper Bags
In order to be compliant with the ban, paper bags need to be 100% recyclable. Our recyclable bags come in many sizes and both with or without handles.
Our bags:
Have at least 40% post-consumer recycled paper
Are 100% recyclable and compostable
Contain no old-growth fiber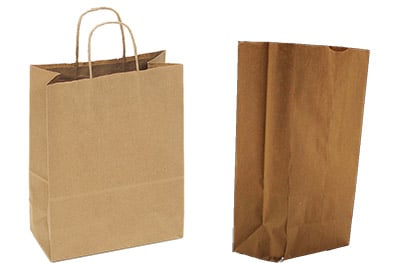 You can feel comfortable that our bags are environmentally-friendly and exceed the Boston plastic bag ban's requirements.
Our paper bags can also be easily customized with your branding at low commitment levels. Choose from kraft or white.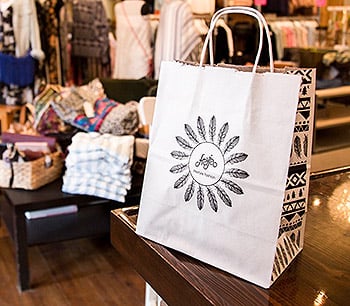 View Custom Paper Bag Options
How to Compost
The City of Boston has launched a community compost pilot program called Project Oscar. You can find out more about drop-off locations and other details on their website.
Additionally, there are several commercial compost outfits in the Boston area and throughout Massachusetts. Find the one closest to you on CompostNow.org.
All of the compostable items we sell can be composted through this program, so be sure to educate your customers on how to complete the cycle.