Beth Terry is an Oakland, CA area blogger and activist who promotes reducing one's plastic usage. She's been featured in the San Francisco and national news while doing things like donning plastic bag costumes to raise awareness for reusable bags. She's even given a TED talk about the Great Pacific Garbage Patch. In the past few years, her blog, My Plastic-Free Life, and subsequent book, Plastic-Free have chronicled her struggles to reduce her personal plastic usage, while offering practical tips to consumers to reduce the amount of plastic they buy.
I caught up with Beth recently to find out how her thinking about plastic has evolved over the years and what she's doing now to motivate others to change their plastic habits.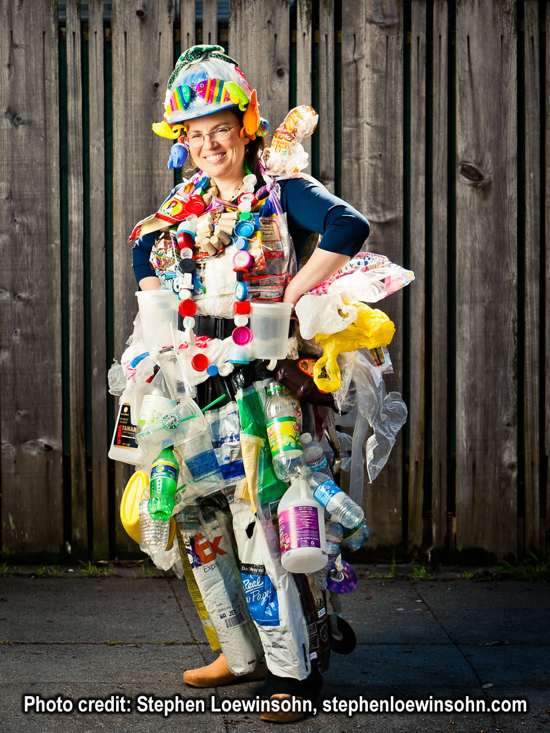 When you first started chronicling your plastic usage, what was most surprising to you?
Learning about recycling and the fact that so much of the stuff could not be recycled. I thought that I could just put things in my recycling bin and they would get "recycled". I didn't really understand what recycling meant. I just knew it was a good thing and we should all be recycling. In Oakland at that time they [municipal recycling centers] would only accept narrow neck bottles. It didn't matter what the [resin code identifying] number was. That made no sense to me so I did research and I visited a bunch of recycling centers.
Then I saw a video about the terrible [factory working] conditions of recycling plastic in China. Then I came to understand that plastic recycling is not the solution to the plastic problem. Recycling is mostly down-cycling into other things that can't be easily recycled again.
I also learned about what things have plastic in them- the insides of metal jar lids, milk cartons, coffee cups, some wine corks, and even most chewing gum.
How much plastic are you down to now and how does this compare to the average consumer?
The average American goes through 100 pounds per year. That's just at home; It doesn't include things you throw out before you get home [e.g. take-out food containers consumed at work]. The last time I weighed my plastic was a few years ago and I was down to two pounds.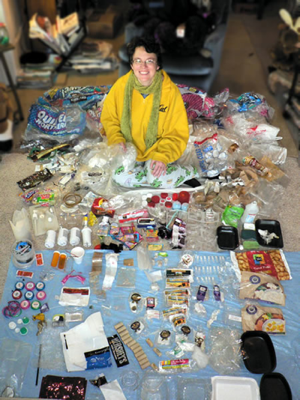 What are you doing these days?
This year I recently started a running training program- and that's a big [problem] because there's all this synthetic technical wear people think they have to have. You go through lots of different pairs of running shoes when you're a runner. They drink bottled water and they carry these gel packs that are plastic, and eat energy bars wrapped in plastic. There's just so much plastic related to running so I have some posts planned about that.
Another one of my goals this year is to save money. So I have a post planned about how you can reduce plastic and save money. But there are two sides to that. On the one hand, people are motivated [to change habits] by saving money. But if the only reason they do these things is because they're motivated by saving money, then if they start making a bunch of money, when we come out of the recession, if people aren't concerned about money anymore, are they just going to go back to their old ways?
What about single use disposable plastic in the food industry- is there a place for it? Is compostable better? Or is reusable really the only sustainable choice long term?
In general, I push reusable. But there is a place for compostable- especially at big events. I like what they do at the Green Festival. Everything is compostable and someone is stationed at trash and compost bins to tell people where to put [their waste.] In places where they're experiencing big drought, for example… there could be different reasons why compostables could be better than washing reusable dishes.
One of the things you point out in your book about things like plastic bags is they get out into the environment and are blight plus can cause damage to wildlife. The plastic industry would say that this is a people problem and not a plastic problem so they're not the villains. How would you respond to that?
They may be right. It may be a people problem but the people problem is not going to go away fast enough. We do educate people to [get them to] change but the environment doesn't have time to wait until everyone gets it and stops dropping their bags everywhere. And its not just a people problem. Those bags are so lightweight, they get away from you. I've watched the garbage people come to my street and every time they leave, they leave a trail of plastic on my street that blew out of the truck. So it's a combination of problems.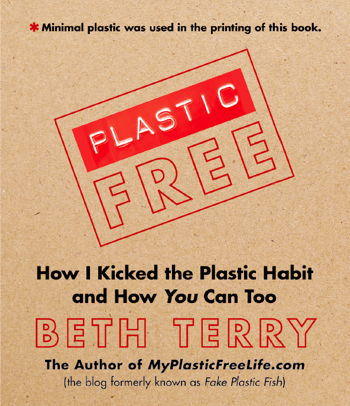 For someone just getting started on reducing the amount of plastic they use, what is something simple they can do now that would collectively have a huge, positive impact?
It depends on where they are. Some things might be easier for some. My first step was to never take another plastic grocery bag ever again. But that's not easy for everyone. So I really encourage people to first analyze their plastic for a week and ask themselves "what am I actually using and what can I cut out?" Its not about guilt and shame…just about not lying to yourself and convincing yourself that you're not using as much as you are. For people who have taken my show your plastic challenge, that's one thing they always say "I had no idea."
Images courtesy of (in order): Stephen Loewinsohn, Michael Stoler, Green Festival, Skyhorse Publishing