More and more consumers are demanding eco-friendly products with businesses wanting to offer sustainable alternatives to single-use plastic. At the same time, there are a limited number of factories that produce PLA resin worldwide.
Here we will highlight eco-friendly alternatives you may not have considered. Check out some sustainable food packaging options below.
Cold Cups: PLA vs. Paper
What's great about PLA cold cups is that they look and feel just like plastic without the harmful environmental side effects that go into manufacturing plastic or styrofoam. They're sturdy, sustainable and crystal clear. But, our new line of NoTree™ paper cold cups drive sustainability to a whole new level.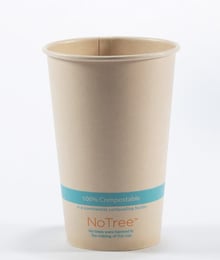 In addition to being 100% compostable, these cold cups are made from bamboo, a rapidly growing grass that continues to grow after being harvested. In fact, bamboo is the single fastest growing species of plant on the planet with some species growing more than a meter a day!
Our NoTree™ paper cold cups are also built with a PLA liner, which prevents leaking and condensation. And the thick paper has been known to keep liquids cooler for longer. Did we mention that they cost 25% less than PLA cold cups on average per case?

Salad Bowls & Deli Containers: PLA vs. Fiber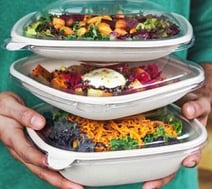 Our clear salad bowls and deli containers are as light and strong as plastic and can handle temperatures up to 110 degrees. But, our fiber-based to-go boxes and clamshells can be a great alternative.

Available in all shapes and sizes, with multi-compartment options, these beauties will be an instant visual reminder to your customers that you've chosen to use compostable products at your business.
Many containers are available in a PLA-lined option making them soak-proof. They're also microwave and freezer-safe and stack perfectly for easy storage or transport. Need to include salad dressing? Not a problem: we offer both PLA and fiber portion cups.

Straws: PLA vs. PHA vs. Paper
Our PLA straws are just as strong as traditional plastics without environmental pollution.
Our newest straws are made from PHA. PHA straws are home compostable, marine-degradable and look and feel just like PLA straws. They also come individually wrapped.
Also, paper straws are widely used as well.
At Good Start, we're always looking one step ahead. We'll continue to stock the largest variety of compostable, sustainable products that we can while maintaining a high level of service. We'll also keep you, our valued clients, aware of market conditions so that you can continue to serve your customers using the best environmentally-responsible products available.